Learn About the Marchio Fence Company in Joliet, IL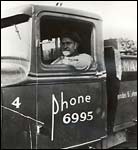 The Marchio family being in business in Joliet began with Ceasar Jake Marchio. Jake, as he was known to family and friends, began his work ethic early in life. Jake was born in Joliet on December 17, 1910. At nine or ten years of age, he began helping the milkman deliver his goods. This was before school each morning. The milkman would drop him off in time for school. He was paid thirty-five cents per day. His second job was as a paperboy for the Joliet Herald-News. After a year and one half or so, he started his third job. This job was at Allen's Battery Shop. He worked there every day after school until 9:00 p.m., as well as a full day on Saturday and a half say on Sunday. He would do maintenance on batteries and recharge them for the customers. He was paid $3.50 per week for his work. While attending continuation school around the age of sixteen he worked at the Joliet Wallpaper Mill. He worked there for approximately three years, earning $15.00 per week. He then started to work full-time for fifty cents per hour at the deep water way (part of the canal system in Joliet) for one summer. During that summer he started getting an urge to go into business for himself.
By the fall of 1930, he had bought an old Model "T" truck for $15.00. This was the beginning of his coal delivery business. He started trucking coal independently for $1.00 per ton, delivered. It was dirty work, but he enjoyed himself. On a good day he would make as much as $12.00. He placed ads in the Herald-News and kept himself busy during the slower seasons by unloading coal cars for the Midwest Coal Co. The work was all done by hand. One day, while preparing to unload a car, Jake, with his brother Sam, happened to notice that the railroad tracks they were unloading the car on continued across the way from the Midwest Coal Company to a vacant lot where the tracks terminated. He thought to himself that that would be a good spot for his own coal yard, since having access to a rail line was key in that business, and the expense of having tracks laid was out of the question. He had no idea how soon his observation would pay off.
A couple of months later Pat Timson, the owner of Midwest Coal Company, was in financial trouble. Mr. Timson tried to collect money due him from bad accounts to pay his bills. Mr. Timson was eventually forced out of business. He was leasing the property on which his office building, ice house, and scale were located. When Mr. Timson's equipment went up for auction, Jake realized his big opportunity. So Jake, with his older brother Sam, attended the auction. Jake only had $125.00 to his name and it was in his front pocket. Once the auction started Jake seemed to forget how much money he had and ended up bidding $250.00. Jake, being embarrassed for making such a bid, started to walk away. Then the auctioneer hollered, "Just a minute young man, you've got it!" Well, lucky for Jake his brother Sam was with him. Sam told Jake he had about the same amount of money at home, enough to cover the balance. At that moment, Jake asked Sam to go in half with him. Sam agreed. This was the beginning of Marchio Coal Company and their partnership.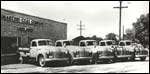 There were plenty of obstacles ahead, one of the biggest concerned relocation their newly purchased equipment. The office building, ice house, and scale, which were all on private property, needed to be moved within thirty days of their initial purchase. Jake and Sam had originally hoped to have more time or possibly lease the property the equipment was already on. Being tapped out of money, they could not afford land of their own. Facing this dilemma, Jake thought of the vacant lot by the rail line nearby and asked to lease it for $48.00 per year. After signing the lease, Jake and Sam started to clear the area of brush and trees. They also had to level off the surface of the lot for the building and fence. They worked very hard that summer. Now it was time to buy their first car of coal. After asking an aunt for a loan, they purchased their first load of coal from Peabody's Mine in Westerville, Illinois. It was October 16, 1934. The very same year Marchio Coal Company handled thirty-five cars of coal. Every cent earned was put directly back into the business. At this point the loading of delivery trucks and the unloading of rail cars were done strictly by shovel and back. It was not until several years later that this task became automated.
Later in 1936 they added coal stokers to their business. They installed and serviced these stokers in people's homes. Business was going well. They finally bought their first new truck in 1937. In 1939 they bought nine acres of land facing Linden Avenue, adjacent to their present location near the corner of Rowel Avenue. Once again they cleared the lot and hauled fill in to level the land in preparation for a new masonry building. When they finally completed this work in 1942, Jake and his brother were very proud of what they had accomplished with their hard work.
In 1949 Marchio Coal Company bought another new truck and hired five drivers to deliver coal. They were handling 175 to 200 cars of coal a year. In the next year they replaced their old trucks with four new trucks and some new equipment, such as unloaders and conveyors. Jake's and Sam's peak business year was around 1955. They handled 225 cars of coal that year. Although times were good, they knew that time was going to change that. As gas and oil heating gradually replaced coal burning, Jake and Sam began to shift their business into handling plywood. To compensate for the declining sales in coal, the brothers added paneling, trim, ceiling tile and floor tile to their business.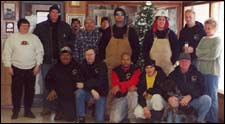 They stayed at the same location on Linden until 1965. The company moved to 907 Rowell Avenue, just one half mile away. Interstate 80 was scheduled through their property on Linden and staying was not an option. They, of course, knew about this move in plenty of time. They had put up buildings and an office by 1965 at the Rowell address. The name was then changed to Marchio Plywood Company. Both locations were in use for a short time. Jake's two sons, Phil and Mike, and Sam's son, Sam Jr., were already working for the company for some time.
Mike, who is Jake's youngest of five children, started working construction in 1963. By 1967 Mike had learned to install many different types of fence. Near the end of the year Mike had asked his older brother Phil, who was still working for Marchio Plywood Company, if he would go into the fence business with him. Phil agreed. They started Marchio Fence Company and worked out of Mike's house. At this time Mike was installing fence full time, while Phil worked the books and did estimates after working for his father at Marchio Plywood. By the mid 1970's Marchio Fence Company moved to an industrial park on Alesslo Drive in Joliet.
Sam Marchio wanted to retire, so he sold his half of Marchio Plywood to Jake in 1974. Eventually, after years of growth, Marchio Fence Company moved to its present location at 907 Rowell Avenue and rented space from Jake. In 1989 Jake retired from Marchio Plywood. Mike and Phil took over the plywood business, which Phil had been managing for some time. Jake passed away on December 27, 1998, at 88 years of age. He is greatly missed by all. Phil retired the following year. He sold his half of Marchio Fence Company to Mike.
Today the paneling business has been phased out, although Mike does carry plywood for some select customers.
Mike Marchio works with his two sons, Michael and Matthew, as well as his wife, Cathy. There are many others who have worked at Marchio Fence for many years and hopefully for many more to come.